Express from Japan is the second addition to the Alice in Steampunk world series, this time, in the form of the Mad Hatter. She's the first female Mad Hatter in the Pullip series – and she arrives with a bang.
In keeping with the theme, Mad Hatter arrived in a sepia coloured box covered in steampunk gears. She's a pale girl, and she stares out at you wickedly from her box. I'm not sure if she's meant to be wicked. It's just the feels I get.
Pulling her out of her protective home, we can see that her dress is made with as much care as that of Alice – and is probably even more detailed. In layers of blue and black houndstooth fabric, over stripped linen and a little leather cage-skirt, her stock is pretty hardcore.
She wears a leather corset adorned with a black satin ribbon and a brass gear necklace, and a ruffled, pleated, halter-neck top underneath. She has leather peasant-styled long sleeves, and is adorned all over with more buckles, gears, and belts (some of the gears are printed, and others are actually gears). She also wears a leather hat which has a clip to go into her hair. The leather top hat is her mad hat, I assume, and has a giant checkered bow with a leather gear in the centre, and a dangling key off to one end.
Mad Hatter has these awesome stockings that are quite flattering on her legs. And oh my goodness her SHOES. Her shoes are the craziest platform things I have ever seen. She balances precariously in them, wobbling like a high-end fashion model at a Jimmy Choo runway show.  They're shiny black with a silver love-heart buckle, with wooden soles that probably once were ice skates.
The first fun part about Mad Hatter is releasing her two plastic pigtails. Her hair reminds me a bit of Romantic Alice or Merl, it has a loose wave but is predominantly straight. It's in this wicked stormy-warm-grey colour.
Channelling her inner Sailor-Moon, her hair is complexly tied in two odangos. I'm really digging her hair – it looks and photographs fab.   Now let's talk about her face-up.
Mad Hatter has quite a unique face-up and I don't have anything remotely similar. There are some strange lines. Her eyes are ringed with some intense eyeliner – she has more expressive lid-lines painted in than anyone in recent memory. The thing I am not too sure about are the downward turning ticks of the liner on her bottom lashes – it makes for a strange shape. She has a LOT of dark lashes drawn in under her eyes, deep smokey eyeshadow and wicked arched eyebrows.
She features the flat blue chips of her Alice in Steampunk World sister, which, once again I am not a huge fan of. Her lips are this pale grey colour that intensifies in the centre. The corners of her lips are painted quite darkly, and give her a little grumpy downturn. Not sure if I'm a fan.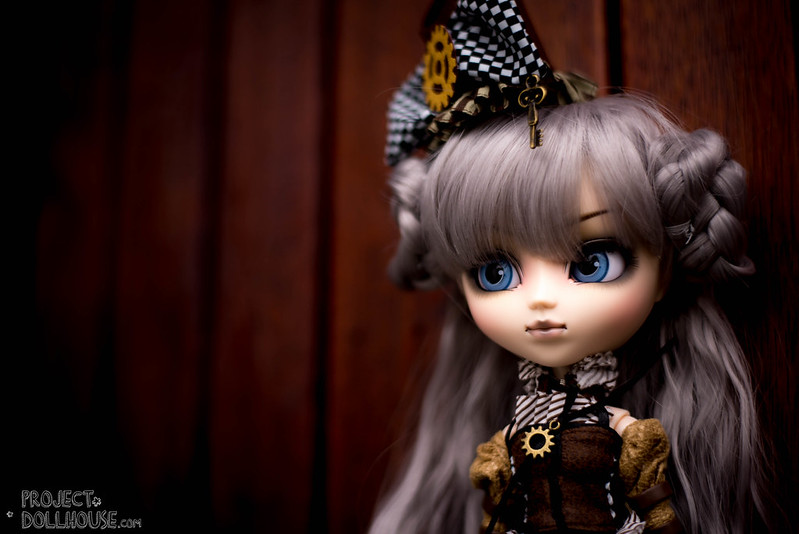 The result though is that she does look quite fierce!
She is super fun to photograph, and definitely has a lot of character. Her skin looks fab. Her colouring looks fab. I LOVE her wig. I am just so unsure about her eyeliner. She should really calm down with it.
Even though she is all grey, she's actually quite warmly coloured overall.
  Yep, she's very very pretty.
Here's a shot of the back of her dress. It's pretty complex. She probably needs a wicked friend to help her into it.
Would I recommend her? Ok, not going to lie. When I was first staring at her in the box I had half a mind to return her. Her face was strangely still, and pasty. And then I took her out, and her hair started flowing, and dang. The girl looks stunning on camera. I mean amazing. If it wasn't for those weird mouth ticks and eye flicks, I'd recommend her in a heartbeat. I love her hair. I love her stock. So I'm on the fence with her – but will keep her for a while.
Here she is with her angelic sister. Side by side they look like siblings, kind of like night and day, cool and hip and the goody two-shoes.
They look amazing together! On second thought I might have to keep Alice her companion so they can throw insane steampunk tea parties together.
Steampunk Mad Hatter is available from PullipStyle for Preorder at US$130 (available late August) and Amiami for 15,300 Yen (in stock now).